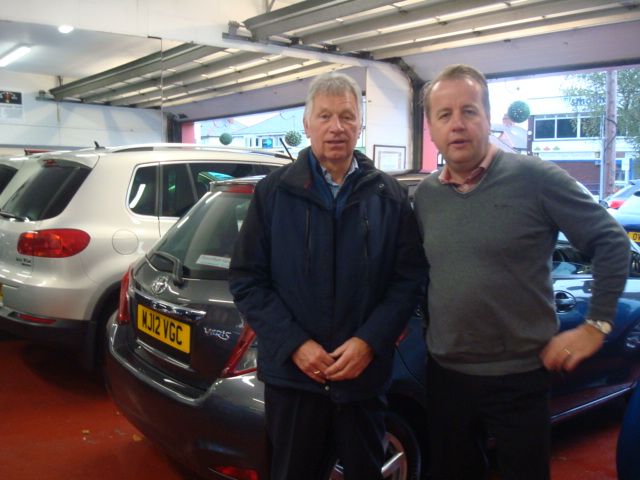 37 YEARS, 1000'S OF HAPPY CUSTOMERS
Driven by values
Personal service and attention to detail have steered Penwortham Garage through 37 years of success. Stephanie Sparrow pulls in at the forecourt
(body copy starts)
Buying a used car is one of the biggest purchases in our lives, but it should not be the most stressful.
"Buyers need to know that the person or company they are dealing with can be trusted," says Russell Clayton showroom manager of Penwortham Garage, "and proprietor Alec Gabbatt and I like to think that we are those people."
Penwortham Garage, next to The Fleece Inn, has become a landmark in this bustling village. From its well-known showrooms on Liverpool Road, Alec and Russell have been offering quality used cars to customers for 37 years.
"We are one of the oldest established businesses in Penwortham", says Russell, "and we have sold thousands of cars, many to repeat customers."
Remaining faithful to their principles, and being meticulous about the used cars they buy, are the keys to this longevity says Russell, "We believe that our success over many years is due to the fact that we have not changed our philosophy," he says. "We spend hours looking at many cars, and only buy the best ones."
Alec explains that he scrutinises up to 80 cars a week, but probably buys only three of those, and only if they meet his standards.
"I don't buy cars to make them nice. "I only buy what I would be happy to drive myself", he says.
This selective approach, backed by technical know-how, and experience of selling major marques (Alec trained as a motor mechanic before managing prestigious showrooms and then opening Penwortham Garage) means that customers can buy with confidence.
There are usually 25 cars on offer. The choice is varied -- smart models from Audi, BMW and Toyota were parked next to a gleaming minibus on our visit -- but they all share common qualities.
"We offer cars with a full-service history, low mileage and one, sometimes two, owners", says Russell.
There are no high-pressure sales techniques. "We are not overcrowded with cars, and so customers can scrutinise them. And we'll show you the paperwork", he says. He invites customers to have a good look around the car, and take it on a test drive.
"We like people to take their time," he says.
This personal service stands out in the age of the anonymous internet. "Once the competition was 17 other garages in Preston", says Russell, "but now, with the internet, it is anyone in Britain selling a used car. But do you really want to buy one from a stranger 150 miles away?"
The best way to buy a car is to look at it in person, not on a screen he says.
"You can buy a new toaster on the internet, but not a used car", he says. "If a customer says 'I've seen this model £250 cheaper in Bristol on the internet', I point out that they haven't 'seen the car' they have looked at a screen."
He points out that a used car is not a standard product.
"It doesn't matter where you buy that well-known brand new toaster from because all its new toasters are identical. But when buying a used car, you need to know how it has been cared for. A second hand
car with six owners, which has not been looked after, is not going to be as good as a one-owner car which has been serviced every six months. And the problems that would arise from that badly looked after car will come on your watch."
Transparency is important to Russell and Alec. As local independent car dealers they maintain a clear pricing strategy.
Russell explains: "Some car supermarkets will sell you a car for £4,995,but on top of that you will have to pay:to have it valeted, to have it prepared in the workshop, for the transaction of your money and for a warranty."
"Whereas with us", he continues, "if it's priced at £4,995, then it's £4,995. With this you get a three- month warranty, you get it MOT'd , valeted and it's ready for you to drive away. There are no additional prices."
Customers do have the choice of other extras, such as an extended warranty at cost price, and will find Penwortham Garage also offers finance and part-exchange.
Russell and Alec extend the same transparent approach to buying used cars.
"If we didn't like the car you showed us, we wouldn't insult you," says Russell. We treat you with respect and understanding. If we do like it we can pay you a fair price there and then and we sort out any paperwork you need."
He explains the extent of their service to sellers.
Latest News
FOLLOW US ON TWITTER TO SEE ALL NEW STOCK AS IT ARRIVES @penworthamgarag
Read more >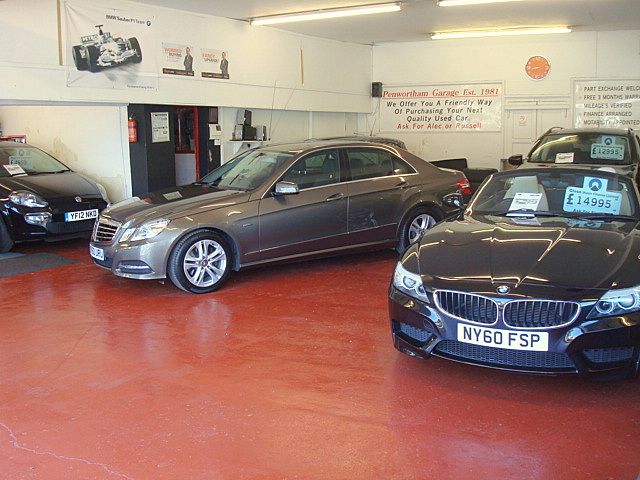 NOTHING WORSE THAN LOOKING AT A USED CAR IN THE RAIN, AND MIISING ALL THE…
Read more >